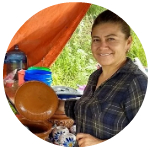 · Local Gal Lives Her Dream
by Joseph Toone
Here my cleaning lady was quitting to live her dream, the dream of owning her own restaurant.
· Mercado San Juan De Dios: pictorial
by Douglas Cullen, Andrés Carnalla, Mexican Food Journal
Every market has food stalls which are worth a visit for great homestyle meals at very reasonable prices.
· El Vergel Bistro Opening
Brenda Sexton
The opening of El Vergel Bistro was a scrumptious feast of hors d'oeuvres, wine, cheese, fresh-fruit cocktails, with live music.
· Chia: The tiny seed that packs a wallop
Miquette Dobros
Although they've had continuous use in native areas, it is only recently that chia seeds have been rediscovered and become recognized as a modern-day superfood.
· Sotol: A Spirit from the North
Rebecca Hartmann
Drinking spirits can be about enjoying the aromas, the tasting notes and the flavors that linger on your tongue.