Zandunga Reopens!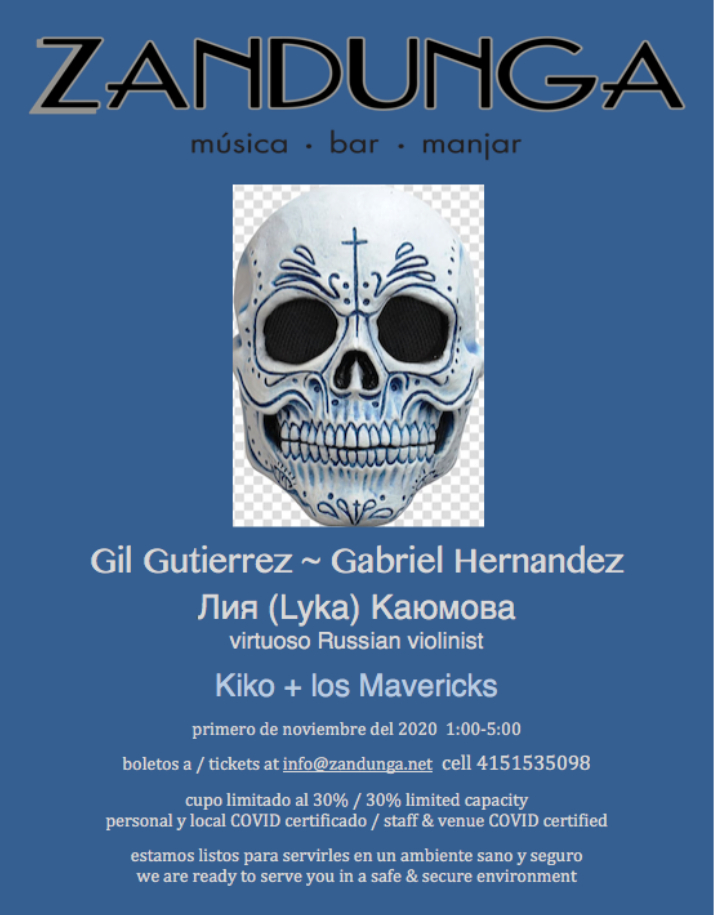 $600 pesos
limited seating
facemasks required
order tickets at info@zandunga.net & we'll deliver them
Mixta won't have tickets for the present

$600 pesos
cupo limitado
cubre boca obligatorio
pide boletos a info@zandunga.net y nosotros los entregamos
Mixta no tendra boletos por el momento
Welcome dear friends,
We look forward to sharing Zandunga with you once again. It's been awhile and we've missed our moments together. We hope you and your family are well and thriving during this difficult time. We are reopening Sunday August 2, 2020 and we hope to see you here. Please help us make Zandunga a safe and welcoming place for all. Masks and social distancing in common areas will be obligatory. Dancing will be fine just not on the dance floor. All areas will be kept sterile and safe for your use. Our staff will be properly protected for your safety & well-being.
Gracias, Gil & Rebecca
Bienvenidos queridos amigos,
Queremos compartir Zandunga con ustedes otra vez. Ha pasado mucho tiempo y hemos extrañado nuestros momentos juntos. Esperamos que ustedes y su familia esten bien durante este tiempo dificil. Vamos a abrir domingo 2 de agosto del 2020 y esperamos verlos. Por favor ayudanos a mantener Zandunga seguro y sano para todos. Los cubrebocas y la sana distancia seran obligatorios en areas comunes. Sí pueden bailar pero no en la pista de baile. Zandunga y el personal seguiran los protocols para su seguridad y bienestar.
Gracias, Gil & Rebecca

Please direct all questions, etc. to info@zandunga.net
Road to Jalapa, 10.5 km.
click to see a map
*****