Mondays-Tuesdays,10am-3pm

Welcome to Van Doren Metal Workshop

For the first time we have opened our 2000 square foot fully equipped metal sculpture studio to participants who want to learn to express themselves through the medium of metal art.

Our empowering creative 2 day workshops are open to people of all experience levels and backgrounds. You will learn the most important metal working techniques and together we will explore a variety of finishes.

Each 2 day workshop is limited to only 4 students, with 2 accomplished instructors present at all times. This is to insure a rare opportunity to immerse yourself in the world of metal art, with maximum safety.

Tools you will learn to use include: mig and spot welders, plasma cutter, plate brake, multiple shears, grinders, drills, and other forming and pressing equipment.

All materials will be provided for you. They will include a variety of metals like: steel, iron, copper, and aluminum.


• As you learn these various techniques, that we have used in our commission work over the years, you will have an opportunity to apply them in your own creative art piece.

• On day one, you will learn how to use all the equipment and materials, and begin your art piece.

• On day two, with hands on guidance and assistance from the Van Dorens, you will continue to create your own work of art to take home when you leave the workshop.

• The Van Doren Metal Art Workshops will take place in our commercial studio, in the colonia of La Canada/Los Frailes, in San Miguel de Allende, Mexico. It is a quick 10 minute taxi ride from Centro. This is a one of a kind, metal sculpture studio, that has never before been open to the public.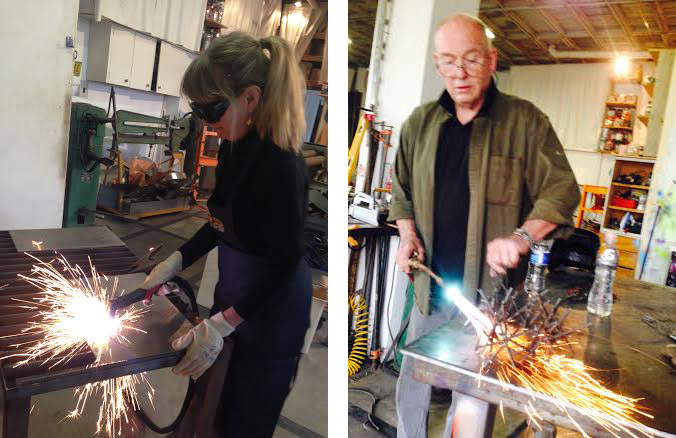 Beginners are not only welcome, but encouraged. All that is required is the desire to learn.

* Cost for the workshop is only $195.00 U.S. for a one day session or $145.00 U.S. per day for 2 full day course sessions, which includes all materials metal and otherwise, a locally sourced organic lunch with wine for both days of the class, and an embroidered shop apron to use in class and take home.

A portion of all workshop proceeds will go to fund two local charities, Casita Linda and the Biblioteca Scholarship fund.

* We are also creating special shows featuring student artwork at our gallery Van Doren Studio (located at Fabrica Aurora). Check out www.vandorenstudio.com to see some examples of Lane and Alex's work using the same techniques you'll be learning.

The workshops take place on Mondays-Tuesdays and run from 10am-3pm both days.

Check out our website www.vandorenmetalart.com for more details and lots of pictures of past work and classes.

We look forward to seeing you in one of our workshops soon!!

Alexander & Lane Van Doren

Mexico: (415) 117-2701
Vonage USA: (916) 760-7408
Email: vandorenmetalart@gmail.com