An interview with the artists: Zoë Siegel,
Oscar Martinez Heredia, Anado McLauchlin
Anado -
Along with Zoë and Oscar, I want to invite everyone to the Opening of ZOA at the Chapel of Jimmy Ray on Jan 26, 2013 from 1 - 5pm. We are three separate yet ever so friendly artists. I've always wanted to be in some sort of collaboration with both Zoë and Oscar because not only are they very accomplished artists, they also take chances with their work. I like working with people like that.

I sought them out. We had thought about doing something together in another forum but the idea of a Group Show felt like a good fit. I've always admired their work individually and also the fact that they are a married couple that chooses to pursue their work in the context of creative parenting and partnership. I chose not to include them in the last show at the Chapel because it just wouldn't have worked… it was a different kind of thing. I wanted specifically for them to exhibit what I really like about their work and to not in any way deviate from that… so it would not have fit in the last show... well the last show was called "Radiant Edge" and that was geared as a different vibe from a diverse group of artists. I really consider Zoë and Oscar to be blue chip San Miguel artists and I wanted to feature them and ride on their coattails (laughs).

It's kind of funny, we're calling the show ZOA.. Zoë, Oscar, Anado, so "Z" comes first, "O" comes second and "A" comes third in this particular venue. I want to showcase the two of them. Let them take the lead. I had some difficulties retrieving my art from a show up North… so I will present two or three larger pieces and maybe 10 smaller pieces. It should be interesting because Oscar and Zoë work in a more monochromatic style than mine… they get lots of whites and blacks and accent colors going… where as I am using lots of different colors and playing in a mismatched and clashing manner. It will be fun…in fact we're trying to do a collaborative piece which I am going to work on this weekend. Wish me luck!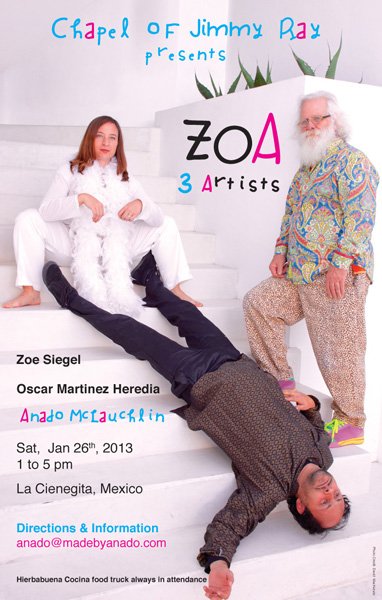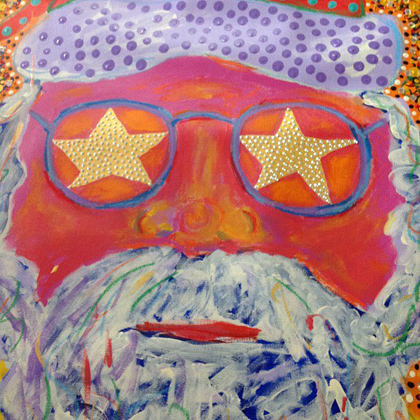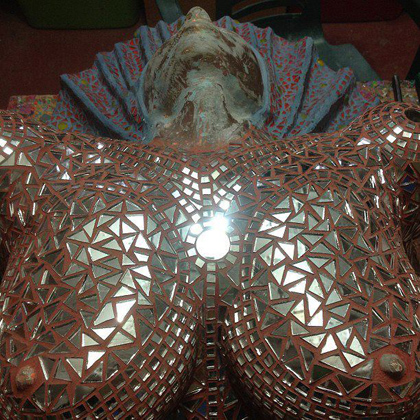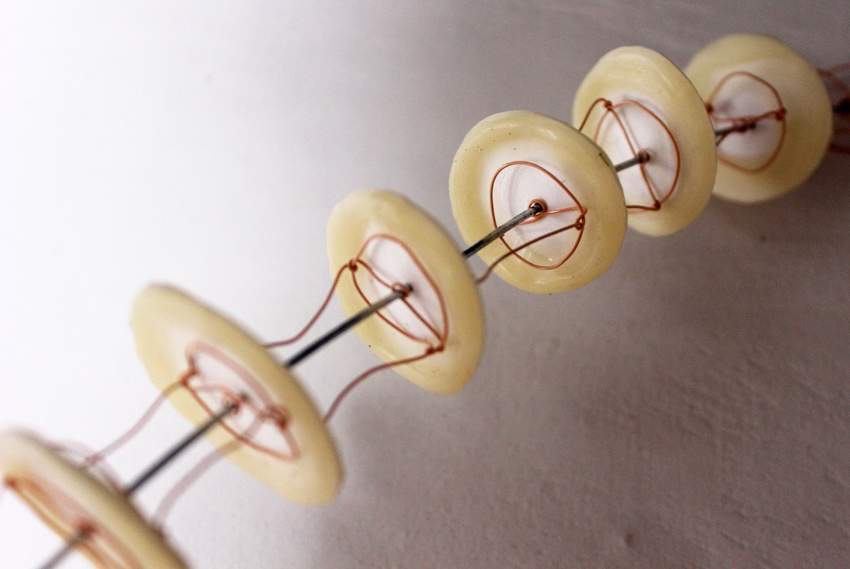 detail
Zoë -
When I am making artwork, I consider where the work will be hung - what the exhibition space feels like, what the scale of the room is, what color the walls are. While creating the current body of work, I considered Anado's gallery space, The Chapel of Jimmy Ray. It's a very dynamic space, with touches of Anado everywhere. It's infused with the vitality and spirit of Anado. My sculptures, which are subtle and delicate, could very easily disappear in the Chapel. To give the sculptures more presence in that space, I decided to incorporate plaster, a material I haven't worked with for many years. The plaster provides a weight and solidity to the work. The sculptures are made with other materials as well - materials I've been working with over the last 10 years - wire and paper. While the plaster anchors the sculptures, the wire and paper maintain the subtle and delicate characteristics I so adore.

I've lived in San Miguel for almost 11 years. I came here because my parents offered me the use of their house while they were away. I was going to stay 3 months, but Belles Artes offered me an exhibition a year from when I arrived, so I decided to stay for the whole year. That year turned into 2, then 3, then… well, it's a very common story for San Miguel. Falling in love helped keep me here too.

I met Oscar while hanging the Belles Artes show. I think it's a pretty romantic story. I'd always thought it would be wonderful if someone fell in love with my work before even meeting me and that's sort of what happened. Oscar saw my sculptures being installed and wanted to meet the artist who made them. He waited around until I showed up and then introduced himself. We fell in love soon after.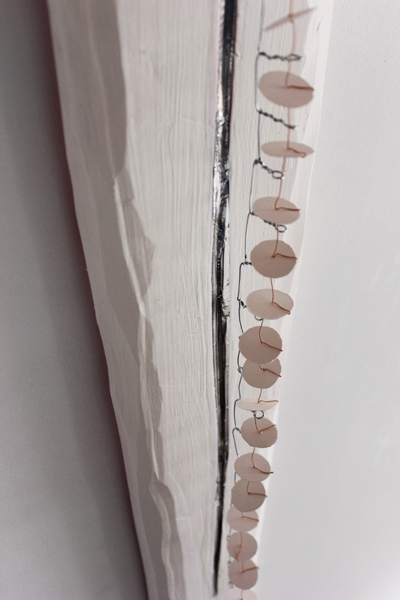 detail

detail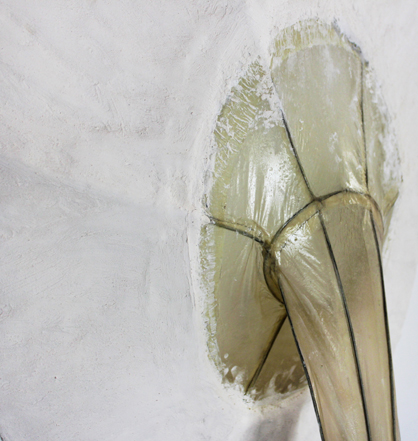 detail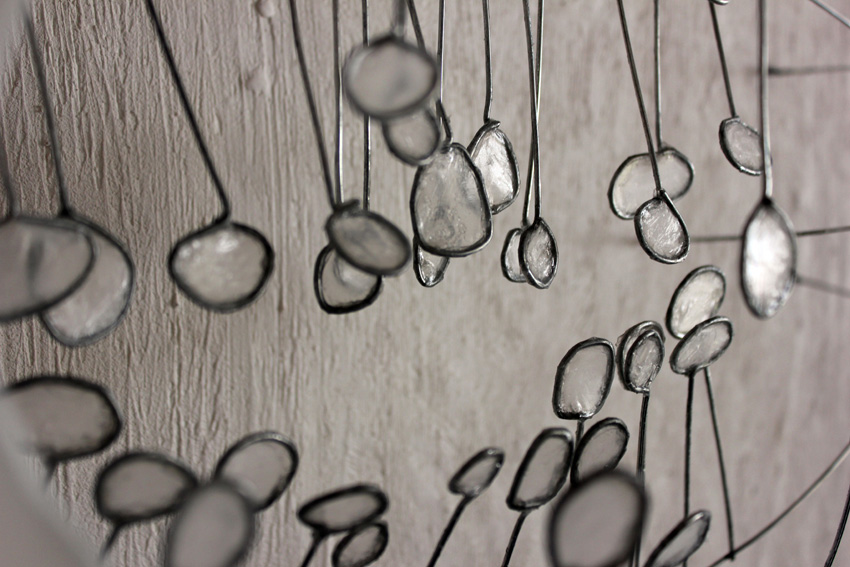 detail
Zoë -
My parents spend half the year here and half the year in Woodstock, New York where I grew up. Both of my parents are artists.

I spoke about how the space where my work will be exhibited is a big consideration while creating the work. Another thing that affects my process, and therefore the work, is the studio space – where I make the work.

We recently moved - a different house, different studios. Changing studios is a big deal for me. The body of work that I'll be exhibiting started in one studio and was finished in another studio. This change had an impact on the work.

An extreme example of a studio change affecting my work is when I moved from NYC to SMA. When I was in New York City I was making big, heavy, plaster pieces. When I first came to SMA, my studio was on the side of the hill, and looked out over the town and onto the vast expanse of landscape and sky. Looking at the view made me feel like I was flying. My work started to fly too. I began working with light-weight materials (the wire and paper) and the work began to float off the walls and ceiling.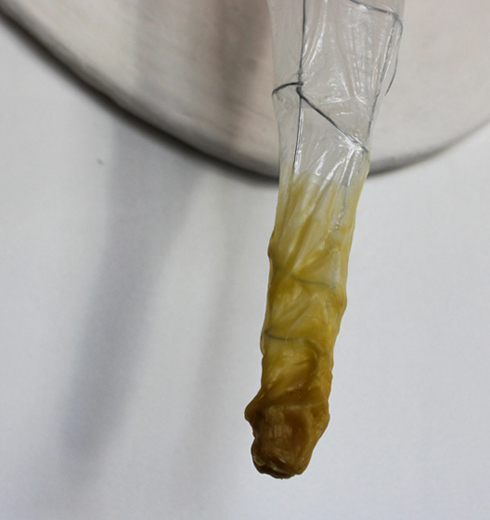 detail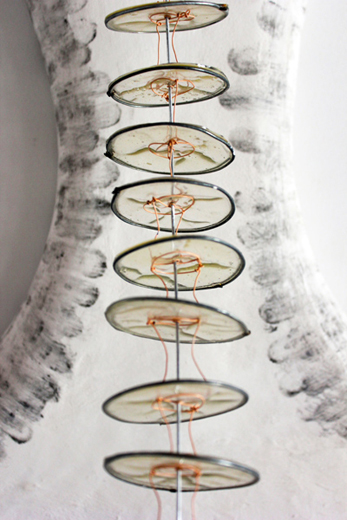 detail
Oscar -
I was born in Mexico City. I've been living in San Miguel for 15 years. Before I moved here, I lived in many other parts of Mexico… such as Oaxaca and Jalapa. One thing I especially like about San Miguel is its diversity. You can find a large variety of interesting people - doctors, photographers, writers, actors. My work is connected with this diversity because it is always changing - the technique, the medium and the style. I like to change my work a lot. One of the materials that I'm using now, a transparent plastic tape, is new for me. I'm making sculptures with it. I'll be exhibiting one of these sculptures at Anado's, as well as a series of drawings inspired by the sculpture. I'm particularly interested in the texture of the plastic tape. Composition also figures very strongly into this series of drawings.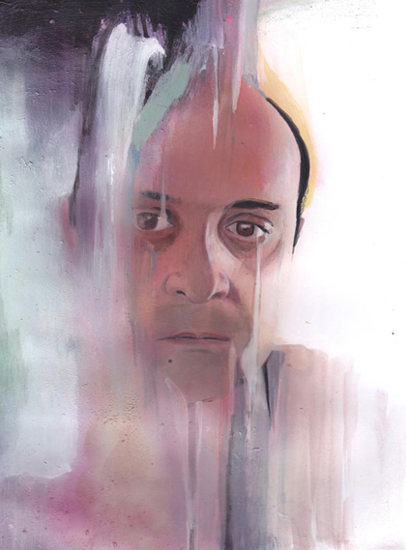 Oscar -
The studio change has also affected my work and the process of making it. My previous studio was a very large space. The studio I'm currently working in - a temporary space until next month when I move into a larger space - is a great deal smaller. Working in such a restricted space makes it difficult to work in a large scale. Even making small work is tough because I can't see how it looks from a distance.

My current work, the pieces I'll be exhibiting at Anado's, were all made in this small space. Most of the pieces are a medium sized format. It'll be interesting to see the finished work hung in a larger space. Thanks to Anado, I'll be able to see my sculpture and drawings in a large space. His invitation motivates me to work.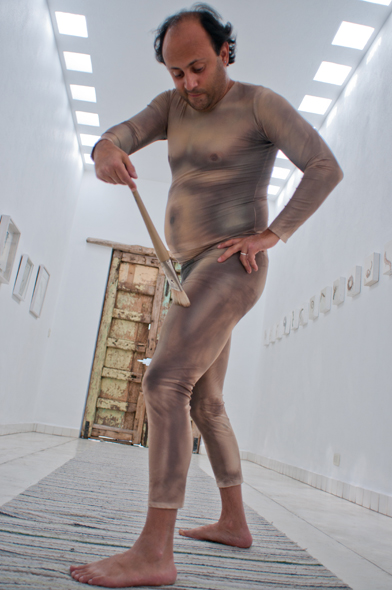 Michael Amici Photography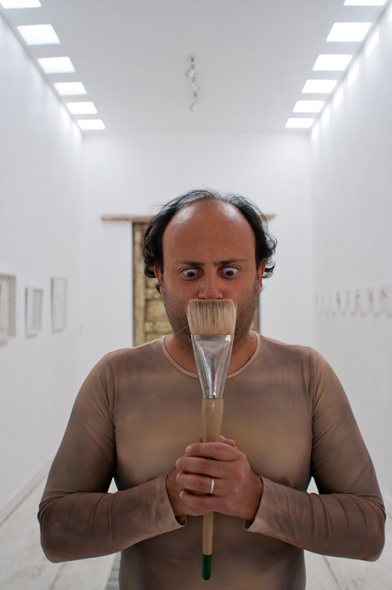 Michael Amici Photography
Anado -
I feel very honored with Oscar and Zoë .... I want to say that not only are we having an Art Opening but we are keeping with what is becoming a tradition at the Chapel of Jimmy Ray… a community event . We intend to attract a diverse crowd of people to the Opening. Last February when we featured Spencer Tunik… we had 1500 people… and the opening last summer we had at least half that amount. I don't want go out on a limb to at all... but I feel we are going to have a good crowd again. Hierba Buena the food truck is going to be there, plus we'll have some special freebies some champagne, and tamales, burros, sunshine it's supposed to be 79 degrees next week… and we have some extra added surprises, one of them being Billy White is going to be there and he's going to be performing in the Chapel itself and everybody loves Billy. Plus we will be presenting two collaborative installations with Christian Baumgartner and Kalyana Valeur in homage to the Mexican painter Julio Galan (RIP). I do want to show the ambiguousness of what it's like to be alive in this century…. because not only are we all from different parts of the world here in San Miguel but we're also from different backgrounds, sexual orientations, religious orientations and such. So I want to include everyone in this… I want to encourage a community event. There will be some surprises… I promise… Fun, Creative, Come!

Divertido, Creativo, Vengan!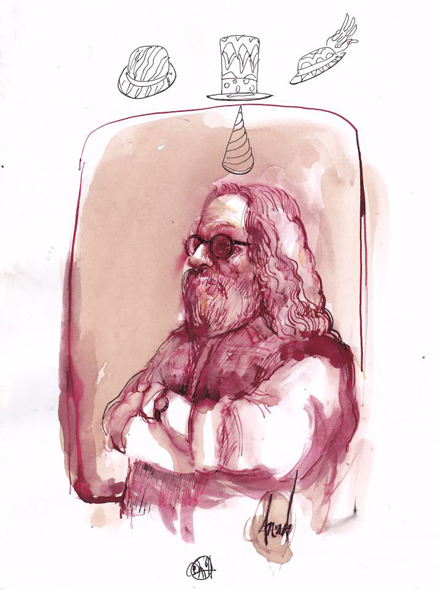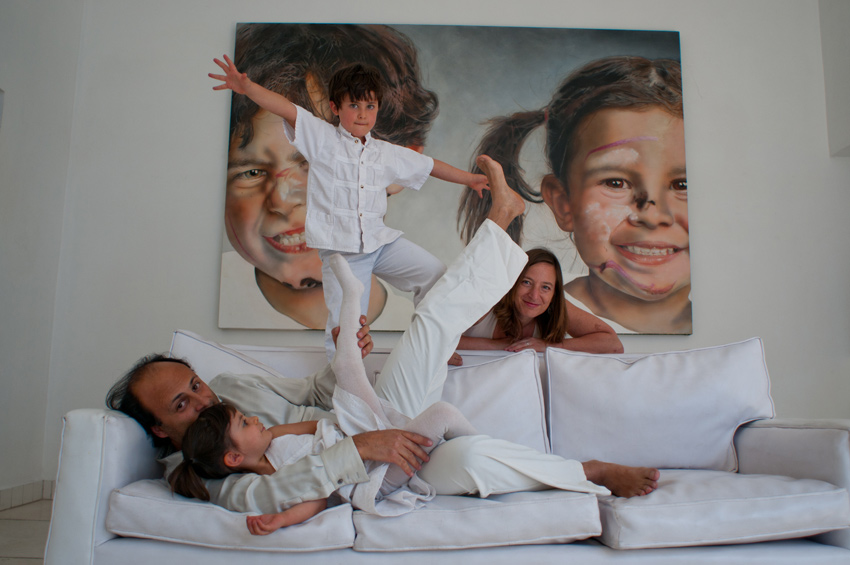 Michael Amici Photography
Please visit www.SanMiguelEvents.com - comprehensive events calendar Friend us